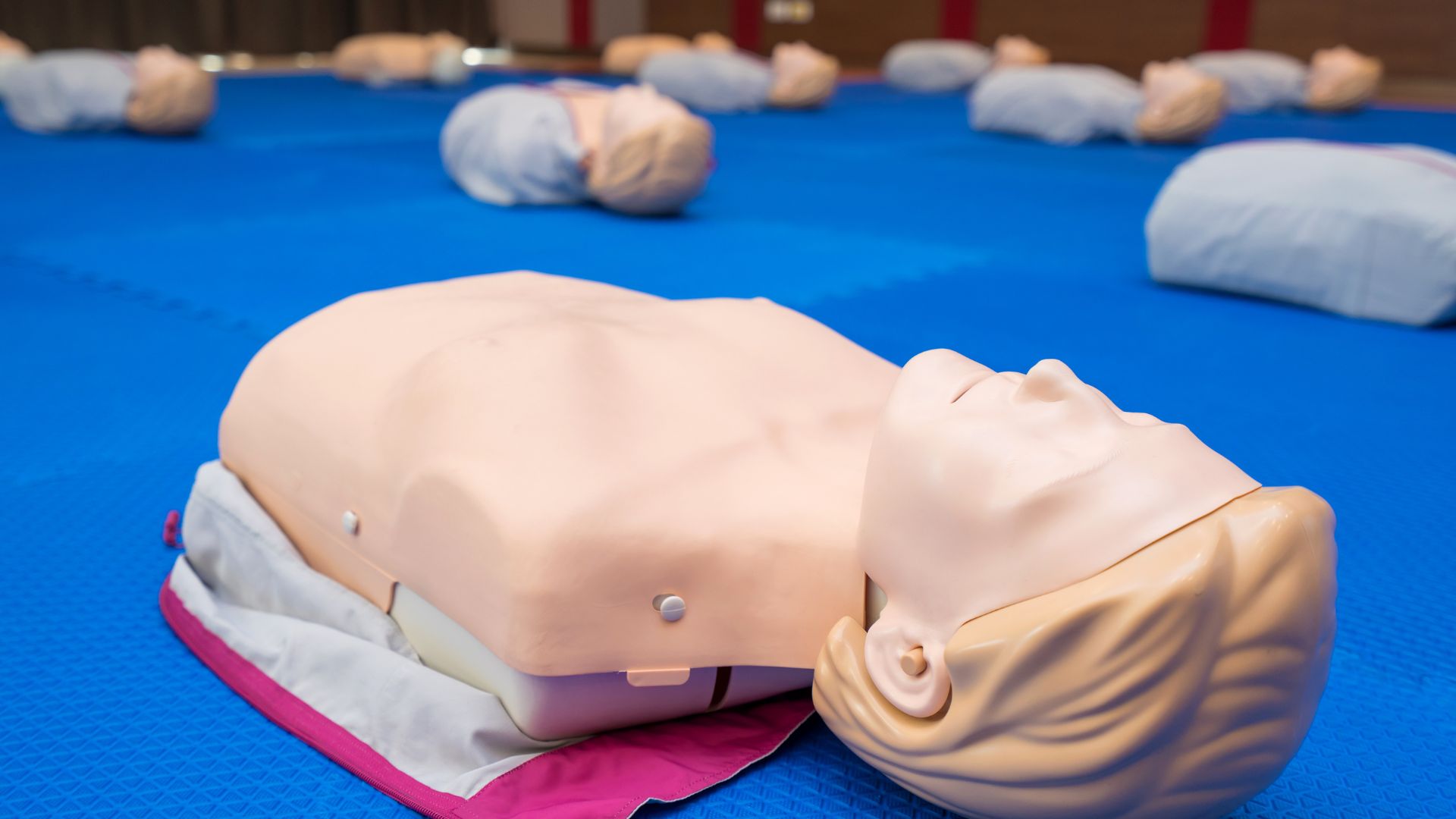 OSHA stands for Occupational Safety and Health Administration and serves to protect working people in the US through regulatory compliance. Currently, 22 states in the US follow OSHA's workplace safety and security standards in both private and local government positions.
While companies operating under OSHA regulations aren't obliged to certify all employees in CPR, at least one employee on the premises must have basic first aid training, including CPR.
Now, the dilemma of many employers is: is OSHA CPR certification the same as CPR certification? This article discusses the difference between OSHA CPR certification and regular certification.
OSHA CPR Certification vs. CRP Certification: General Overview
If you google CPR certification classes, you'll find options for all people's needs. Online, in-person, hybrid, mandatory training, optional training, with/without examination, more/less expensive – the combinations are endless.
However, when it comes to OSHA CPR certification, your options are limited. If your employer deems you the designated first-aid-trained employee, they'll ask you to get certified in CPR annually instead of the typical 2 or 3-year validation period. If your certificate is not OSHA-approved or validated, you'll, once again, have to retake the CPR exam for OSHA validation.
So, how is OSHA CPR different from regular CPR classes?
OSHA CPR Classes
OSHA requires employees to have skills in CPR, not a mere certificate. In other words, the employee must have passed the theoretical and practical examination that confirms they can react consciously, make rational decisions, and apply CPR and first aid.
Computer-based CPR courses that do not include practical learning do not meet OSHA regulatory compliance. Unless the provider allows you to take a practical exam, the online CPR class does not meet OSHA requirements as it lacks hands-on practice.
Therefore, if you need CPR certification that will be OSHA approved, you need to find a provider that complies with the OSHA rules. Below, we picked two trustworthy CPR providers and explained their connections with OSHA.
American Heart Association and OSHA
The American Heart Association collaborates with OSHA because of their common interest in raising awareness about workplace safety. The mission is to reduce the risks of life-threatening situations during working hours in a company or field.
The first approach is getting an AHA CPR certificate when working in a company subjected to OSHA. This is because AHA covers the CPR and first aid material theoretically and practically. The applicants will have to pass a written exam that evaluates their knowledge of CPR and their critical thinking in urgent situations. Afterwards, applicants must take an obligatory practical test where they'll demonstrate their CPR skills on a manikin.
Additionally, CPR certificates have an expiry date. AHA CPR certificates are valid for 2 years. When this date expires, the applicants are obliged to renew their certificates.
American Heart Association CPR Classes
The AHA has an extensive curriculum for different branches. Depending on the nature of your profession, at the American Heart Association, you can enroll in:
Heartsaver First Aid CPR AED Training: Recommended for anyone that wants to gain a basic understanding of CPR and AED and is looking to get certified for their job duties
ACLS (Advanced Cardiovascular Life Support): Focused on medical health workers. As the name implies, the nature of this course is advanced and will be irrelevant to a regular worker who needs CPR training.
Pediatric Courses: This course is recommended for all pediatrics, but also babysitters, parents, caregivers, kindergarten teachers, or anyone working with children. It covers the basics of providing CPR to infants and children, which differs significantly from adult CPR.
The applicant should choose the course that suits their needs the most. Also, they may consult the customer support team for directions or simply advice.
The American Red Cross Organization and OSHA
Besides the AHA, OSHA collaborates with the American Red Cross organization as well. The purpose of this collaboration is to encourage a safe working environment for all employees through compulsory learning of first aid, CPR, and correct usage of AED.
The American Red Cross is a giant and one of the most trusted among Americans, with years of providing classes about CPR. OSHA kindly uses the influence of this organization to encourage a healthier environment for all workers.
American Red Cross Organization CPR Classes
Similarly to the AHA classes, Red Cross CPR certificates are OSHA approved. There are different types of CPR classes at the Red Cross to suit many employees. The list below contains the names of CPR Classes:
Adult CPR and AED Classes: These classes offer basic CPR and AED knowledge
Adult First Aid, CRP, and AED Classes: This is one of the most popular class options among employees
Baby and Child CRP, AED, and First Aid Classes: These classes are specifically for first aid and CPR for babies and infants
Pediatric CPR/AED: These classes are recommended for pediatrics and anyone else that works with children. Parents can benefit from these classes as well.
First aid CPR/AED classes for Instructors: As the name implies, these classes are adjusted for instructors. The material is advanced and updated.
CPR/AED for Professional Rescuers: These classes are advanced and constructed to suit the level of knowledge of professional rescuers.
The applicant chooses the classes that suit their profession. The standard OSHA certificate must cover First Aid, CPR, and AED training. The rest of the classes are specialized and advanced, thus not suitable for every worker.
Note that the AHA and Red Cross have certified instructors. The classes are held by professionals capable of identifying immediate mistakes on the spot and correcting the applicants in the best way.
If you cannot get to AHA classes or the Red Cross organization, remember that OSHA recognizes other CPR providers that follow the instructions. To learn how to recognize a valid provider – read the list below.
How to Tell Whether an Institution Is OSHA-certified
There are many CPR providers online, but only a few are valid or meet the OSHA requirements. The list below points out the main components any OSHA-certified organization must follow:
Certified instructor: The CPR provider recognized by OSHA must have certified instructors conducting the classes.
Hybrid or In-person Classes: The CPR curriculum must include practical training. The theoretical material may take place online, but it must include a practical part on manikins where the instructor can evaluate your skills. Online classes are invalid.
Two-year expiration date: Every CPR certificate has an expiration date of about 2 years. The employee has to renew the certificate accordingly – even earlier if requested by the employer.
Pricing: The last factor of OSHA certificates is the price. Usually, inexpensive classes are only online and do not meet OSHA requirements. The more expensive classes have to cover the costs of the instructors, training centers, equipment and tools, and other materials to meet the OSHA requirements. Therefore, before choosing a provider, check what comes with the price. You can even contact the customer support team because you may run across a provider that does not meet OSHA requirements but charges too expensive for their classes.
OSHA CPR Classes vs Regular CPR Classes: Conclusion
So, is OSHA CPR certification the same as CPR certification? Not exactly. OSHA's regulatory compliance requires all applicants to get physical CPR practice. To conclude this article, we will highlight the main differences between OSHA CPR classes and regular CPR classes.
OSHA requires all employees to have a valid CPR certificate from an OSHA-approved CPR provider or health organization. You can choose AHA, Red Cross, or any other provider that offers in-person training along with the theoretical part of the curriculum.
Online classes do not meet OSHA requirements because they lack practice with manikins.
OSHA-approved certificates have an expiry date and must be renewed every 2-3 years or sooner.
Last but not least, if you own a company in one of the 22 OSHA-regulated states but have not implemented the CPR requirements yet, you can face a fine of up to $7,000 for violation. Therefore, make sure your employees have valid CPR certificates and ensure that you comply with the rest of the OSHA requirements.
We hope that you found this article useful and learned the main difference between OSHA and regular CPR certificates. Now, all that's left to do is to take first and CPR classes and save someone's life – you never know when the workplace will call for an emergency.