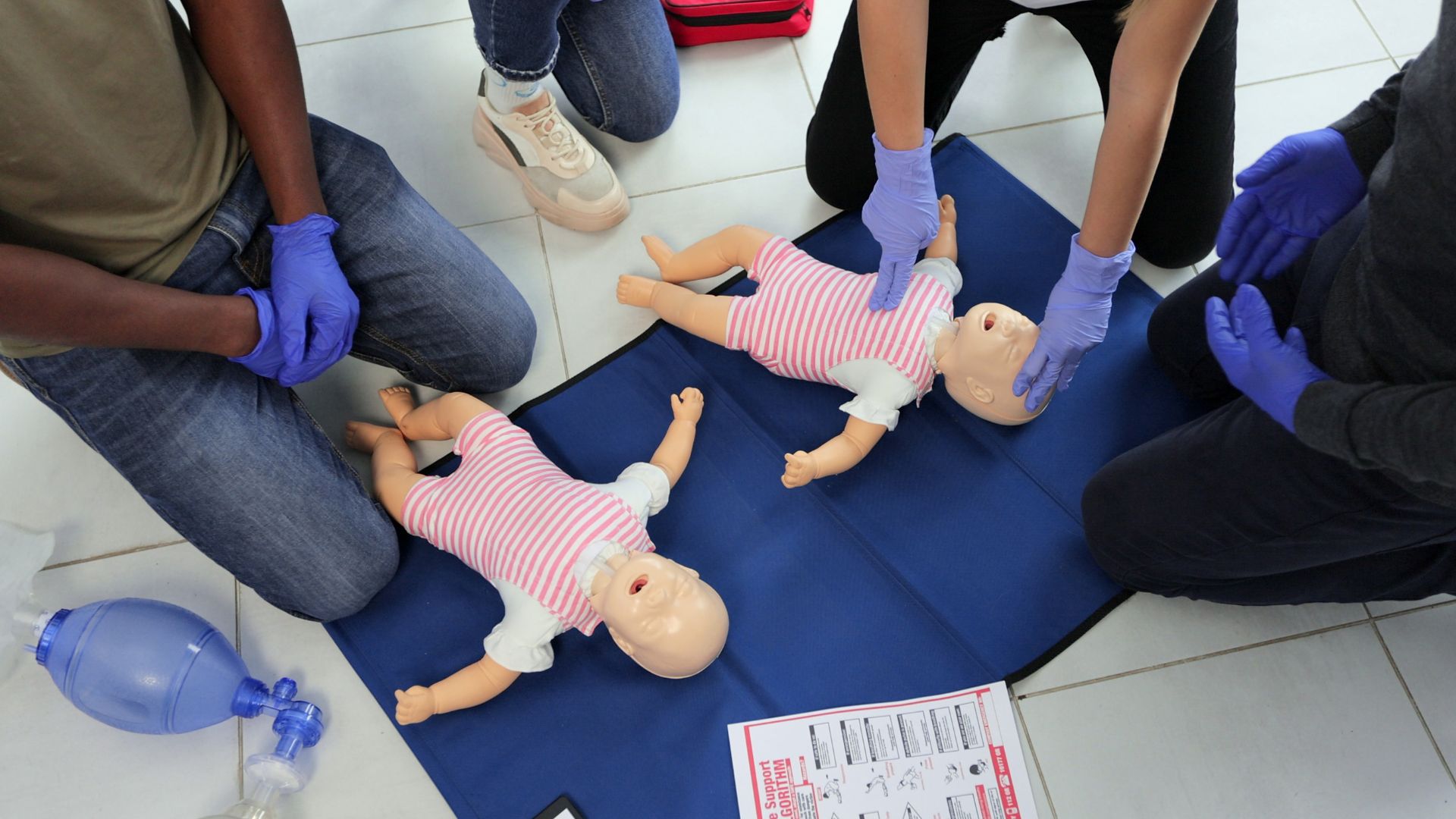 The Centers for Disease Control and Prevention found that 9 out of 10 victims of sudden cardiac arrest outside the hospital die. The first few minutes when a person experiences an OHCA are critical. The brain has only 4 minutes to survive without oxygen, and the consequences may be partial to permanent brain damage with delayed help.
On the other hand, according to the Fire and EMS Department, the average or predicted time for a medical team to arrive on the scene is 5 minutes. However, this is just an estimate – there are cases where emergency services take way longer to arrive, especially if traffic is bad or something is blocking the vehicle from reaching the scene of the accident.
That's why promoting CPR awareness and education is key to saving lives. In this article, we explain what CPR is, signs a person needs CPR, and CPR classes and certification in Wesley Chapel.
What Is CPR?
CPR, or cardiopulmonary resuscitation, is a life-saving procedure performed when a victim's heart stops beating suddenly or when a person goes into cardiac arrest. When a bystander or medical person performs CPR on a victim, they are mimicking the pumping of the heart and giving rescue breaths when needed so that the person doesn't remain without oxygen in their brain.
When Is CPR Needed?
There are several signs that make it obvious when a person has gone into cardiac arrest and needs CPR assistance:
Abnormal breathing: During cardiac arrest, breathing becomes difficult because the heart goes out of rhythm and leaves the lungs short on oxygen bit by bit. Additionally, before they pass out, they will be unresponsive to your call or touch. Mind that a person might snort, grunt, or produce similar noises as they are fighting for air.
Unconsciousness: If you see an unconscious person, immediately check for a pulse. If you can't find a pulse, it's likely they've suffered an OHCA. In this case, the victim needs CPR. However, you should make sure you call an ambulance first and then get to resuscitating the victim.
No breathing whatsoever: Any person that's not breathing needs immediate help and CPR. Call the ambulance and provide CPR immediately.
Note: Despite popular belief that SCA occurs in the elderly, there are many death cases of younger people, including children. Infant CPR is different from adult CPR according to the physique and development of the body.
Who Can Perform CPR?
Many people believe CPR is a rescue technique that's difficult to understand and is reserved for medical personnel only. However, CPR is easy to comprehend, and any person can learn the skill and provide first aid to a victim when needed. Additionally, there is the Good Samaritan Law that protects the rights of a bystander who decides to act on the spot and help the victim despite being uncertified.
However, one of the conditions a bystander has to fulfill to be protected by the Good Samaritan Law is to be fully aware of the situation and be as gentle and careful as possible. If you're helping a victim, it's your responsibility to assess the situation and bring the best decision.
In other words, to help a victim, you have to follow the so-called chain of survival. CPR classes cover the theory of the chain of survival, and students, depending on the class format, have the opportunity to demonstrate their skills on a manikin.
Below, we elaborate more on CPR classes and certificates.
CPR Certificate and Classes in Wesley Chapel
According to OSHA, at least one employee in the workplace should have CPR certification to ensure the safety of all employees. Thankfully, it's never been easier to get certified in CPR, and classes can cost as little as $20.
Below, we'll discuss the different types of CPR certificates as well as class formats and costs:
Types of CPR Certificates and Classes
CPR providers have licensed CPR instructors that conduct CPR classes and train candidates to develop CPR skills.
Namely, there are many types of CPR classes available to Wesley Chapel residents, and each class has its target audience. The most popular are:
Adult CPR classes and AED: The curriculums of the adult CPR classes cover the basics of CPR and AED for adult persons. These classes are recommended for everyone who wants to be able to help in an unexpected situation. In some states in the US, Adult CPR classes are implemented in the high school curriculum, and students cannot graduate without passing the CPR classes.
Child and Infant CPR and AED (a.k.a Pediatric CPR): The pediatric CPR classes are focused only on providing CPR on children and babies. All people working with babies, toddlers, or children should consider taking these classes, as children are prone to choking.
Adult and Pediatric CPR classes: As the name suggests, the Adult and Pediatric CPR classes are joined together into one curriculum because it is more convenient for most providers. Mind that these classes may take more time because Adult and Pediatric CPR are two different approaches.
Basic Life Support: The BLS course is reserved for medical personnel in training as the material of these classes is highly technical. Apart from Adult and Pediatric CPR, these classes also prepare the candidates for providing first aid on the spot, using an AED, relieving the obstructed airway of a choking victim.
Now that we've mentioned the types of CPR classes, it's time to pay attention to the different formats at your disposal. Check them out below.
CPR Class Formats
CPR providers have comfortable methods of conducting CPR classes that work in the candidate's favor. In other words, you can take your CPR class:
Online: Candidates will follow the curriculum from the comfort of their homes. However, mind that online CPR classes only cover the theory of CPR, which means that the candidates will not have the opportunity to practice and demonstrate their skills on a manikin. Additionally, an online CPR certificate may not be valid for work requirements.
In-person: These classes are also called physical classes, and the entire learning process happens in the training center. Once candidates have completed the theoretical part, they'll have the opportunity to showcase their skills on a manikin. The candidate gets a CPR certification only after passing the exam.
Hybrid: As the name suggests, these classes can be followed online and in person. Usually, the theoretical part is online, while for the practical part, candidates have to come to the training center and demonstrate their skills on the manikin.
Given the types and formats of CPR classes, you should know that each CPR class or CPR certificate has a different cost.
Cost of CPR Certificate
The costs for CPR certificates vary from provider to provider. The below prices are estimates for each course type:
Online Adult and Pediatric CPR classes are about $20. Most providers will charge you $5-$10 plus for the certificate.
In-person Adult and Pediatric CPR classes vary from $60-$100 or more, depending on the provider. These are more expensive as they include the practical part of CPR.
Hybrid Adult and Pediatric CPR classes are about $100 – again, depending on the provider.
BLS classes are about $80-$100, but it all depends on the provider.
Ultimately, mind that there are hidden costs, such as the issuing of the certificate or the costs for learning materials. Some providers include the cost of the certificate and the learning material in the total price, but you have to double-check or contact customer support for further information.
Empowering Communities: Promoting CPR Awareness and Education – Final Say
CPR is one of the most important life-saving techniques that any contributing member of society should know. The US encourages its citizens with the Good Samaritan Law to take the initiative and provide first aid to a victim.
In addition, the flexibility CPR providers offer regarding online, in-person, or hybrid lectures is even more motivating. The prices, as we mentioned, may vary from provider to provider. This means that if you find hybrid classes expensive, you can always sign up for an online course.
We hope you found this article useful and that it inspired you to enroll in your first CPR class.